Are you looking for the best tourist places to visit in or near Gwalior city with your friends and family? If yes, then this article is for you. Here I am going to tell you about the 40 most amazing and best places in Gwalior that you will definitely love to visit.
Gwalior is the historical city of the Indian state of Madhya Pradesh known for its majestic fort and marvelous palaces. There are many amazing and beautiful places in or near Gwalior to visit with your family and friends.
Top 40 Best Tourist Places To Visit in or Near Gwalior within 100 KMs.
Here I am presenting you an amazing list of places to visit near Gwalior within 100 km.
1. Gwalior Fort
Majestic Gwalior Fort is one of the best tourist attractions in the state of Madhya Pradesh. It is one of the most impenetrable forts in the country, quoted as "the pearl amongst the fortress in India" by the Mughal Emperor Babur. It is a historical 10-century hill fort in Gwalior Madhya Pradesh, commonly referred to as Gwalior Qila by local people.
Must Read: How to Reach Gwalior Fort From Railway Station
2. Tomb of Tansen
Tansen was a prominent figure in Hindustani classical music and an eminent vocalist in the courts of Akbar in the medieval period. Akbar considered him one of the Navaratnas (the nine jewels), of the Mughal court. After the death of Tansen in 1589, he was buried in Gwalior and a beautiful tomb was made on his burial site, called Tansen Tomb. The Tomb of Tansen is a beautiful piece of architecture and every year in December, an annual festival, the Tansen Samaroh, is held in Gwalior to celebrate Tansen.
3. Gwalior Zoo
Gwalior Zoo was established by the Maharaja of Gwalior Shrimant Madhav Rao Scindia in the year 1992. Gwalior Zoo is also known as Gandhi Prani Udhyan and it is one of the most beautiful zoological parks in Madhya Pradesh. Gwalior Zoo is home to many rare animals. It is a kid-friendly place and one of the most popular attractions in the city of Gwalior.
4. Gujari Mahal
Gujari Mahal is a historical palace built by Raja Man Singh Tomar for his wife Mrignayani, a Gujar princess. She demanded a separate palace for herself with a regular water supply through an aqueduct from the nearby Rai River. Now the beautiful palace has been converted into an archaeological museum named The Gujari Mahal Archeological Museum or State Archaeological Museum, sometimes also called "Gwalior Fort Museum".
5. Gurudwara Data Bandi Chhor
Situated on the hilltop of the historical Gwalior Fort, Gurudwara Data Bandi Chorr is a memorial of the great Sikh saint and proponent Guru Har Gobind Singh. It is associated with the imprisonment of Guru Har Gobind Singh Sahib in Gwalior Fort and his celebrated release. Gurudwara Data Bandi Chorr is a beautiful, calm, and peaceful place to visit in Gwalior city.
6. Jai Vilas Palace
Jai Vilas Palace also known as Jai Vilas Mahal is a 19th-century beautiful palace in Gwalior city. This luxurious property was established by the Maharaja of Gwalior, Shrimant Jayajirao Scindia in the year 1874. The Palace is a fine example of European architecture, it is a combination of architectural styles, the first storey of the palace is Tuscan, the second Italian-Doric, and the third Corinthian. Jai Vilas Palace is the most famous tourist attraction in Gwalior city.
Must Read: How to Reach Jai Vilas Palace Gwalior
7. Tighra Dam
Situated approx 25 KMs away from Gwalior city, Tighra Dam is the major tourist attraction place near Gwalior and also one of the best picnic spots for couples and families in Gwalior. Every day many visitors come here to enjoy some time with family, friends, and loved ones. Tighra Dam is also the only place where you can enjoy boating near Gwalior city.
Also Read: How To Reach Tighra Dam From Gwalior City
8. Mitawali, Padavali, and Bateshwar Temples
The Mitawali, Padavali, and Bateshwar temples are situated just a few KMs from the Gwalior city. Mitawali is a village where the popular Chausath Yogini Temple lies. It is said that the Parliament House in New Delhi is believed to have been inspired by the circular design and architectural intricacies of the Mitawali temple.
About 3 KMs from Mitawali, the notable Padavali fortress lies. It is said to be built by the Jat Ranas rulers of Dhaulpur in the 18th century. Graciously guarded by a lion and lioness, the fort also has a temple that once served as a divine place to worship Lord Shiva.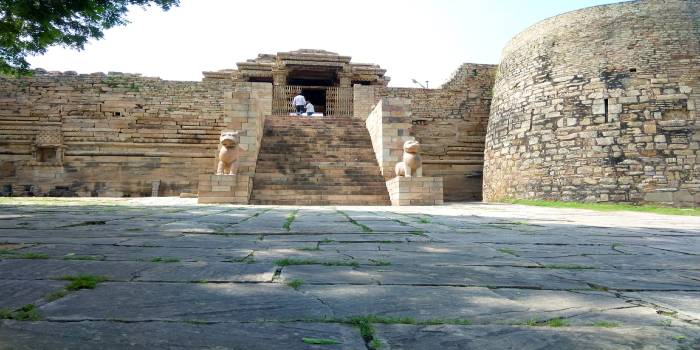 Further away from Padavali there lies Bateshwar temple. This site is not just about one temple, the Bateshwar temples are a cluster of almost 200 mini grandeurs made of sandstone, devoted to lords Shiva, Vishnu, and Shakti – representing the three major forces within Hinduism. The temples were constructed in the 8th to 10th centuries.
It is also said that Mitawali, Padavali, and Bateshwar made a golden triangle in which a university existed about 1000 years ago. The alleged teaching center was said to be a hub to impart education in Mathematics, Astrology, and Hinduism to the children with the help of sun rays.
Also Read: How To Reach Mitawali, Padavali, and Bateshwar
9. Deo Bagh
Deo Bagh is a heritage 17th-18th century hotel in Gwalior city with Maratha temples. The hotel has 15 rooms spread across 5 wings, facing a Nau Bagh, a garden chequered into nine parts. It is said to be the only garden hotel in Gwalior by the owner. It is situated near Janaktal on the Agra-Mumbai highway, Bahodapur, Gwalior. Deo Bagh is one of the 14 best heritage hotels in Madhya Pradesh.
10. Sanichara Temple
Situated around a distance of 25 KMs from Gwalior, Sanichara Temple is an ancient temple dedicated to Lord Sani Dev. It is said to be the place where Sani Dev fell when he was thrown by Hanumanji from Lanka to be rescued from Ravana. Sanichara Temple is a beautiful, historical, and holy place for Hindus.
Also Read: How To Reach Shani Temple, Sanichara, Morena From Gwalior
11. Dandraua Dham
Situated around 60 KMs from Gwalior, Dandraua Dham is a Hindu holy place in Mehgaon, Bhind. Dandraua Dham is a Lord Hanuman temple and it is famous for curing all incurable diseases. Dandraua Dham is also known as Doctor Hanuman Temple, thousands of devotees come here to visit Lord Hanuman. Hanumanji's statue in Dandraua Dham is in dance posture which is not in any temple in India.
12. Vankhandeshwar Mahadev Mandir
Vankhandeshwar Mahadev Mandir is approx 70 KMs from Gwalior, it is considered to be one of the oldest temples in India, as it is believed that it was built by Prithviraj Chauhan in 1175 AD. It is situated in Bhind district, one can reach Bhind bus stand which is nearly 70 KMs away from Gwalior. From bus stand to temple, a number of three-wheelers or private vehicles are easily available at the nominal fare.
13. Gohad Fort
Situated at a distance of 45 KMs from Gwalior, Gohad Fort is a UNESCO Asia-Pacific Heritage Mention of India. Gohad Fort was founded by Rana Singhandev II in 1505. It is one of the most important and unique examples of architecture of Jat rulers.
14. Gauri Lake, Bhind
Gauri Lake also known as Gauri Talav or Gauri Sarovar is an ancient holy and tourist place in the Bhind district. This beautiful lake is situated around 70 KMs from Gwalior city. There are 125 small big temples situated around the lake, of which 100 temples are of Lord Shiva only.
15. Shitla Mata Mandir
Shitla Mata Mandir is a famous old temple near Gwalior city. It is situated on the Shivpuri Link Road which is around 20 KMs from Gwalior. It is a divine spiritual place and a perfect destination for a great time with your dear ones.
16. Man Singh Palace
Man Singh Palace also known as Man Singh Mahal is a 15th-century imperial-style palace built by Tomar ruler Man Singh inside the complex of Gwalior Fort. This palace is a splendid display of Hindu architecture, especially the blue paintings on the walls with a touch of green and gold look striking. A special sound and light show is organized every evening for the tourists visiting the palace.
17. Maddakho Ashram Ghatigaon
Located around 50 KMs from Gwalior, Maddakho Ashram is a hidden gem near Gwalior city. Maddakho is said to be an eminent sage's abode in ancient times. There is a small lake and pond on the Ashram campus. It is a very peaceful and calm place to visit near Gwalior.
18. Ratangarh Mata Mandir
Ratangarh Mata Mandir is a Hindu temple in Datia, Madhya Pradesh, dedicated to Shakti. It is situated around 65 KMs from Gwalior. It is believed that Samarth Ramdas, the guru of Maratha king Shivaji camped here to plan Shivaji's rescue from Agra Fort in 1666. Shivaji's cavalry commandos brought him to Ratangarh Mata Temple after the rescue as it was too dense a jungle for the Mughal army to comb.
19. Teli Ka Mandir
Teli ka Mandir is an old historic Hindu temple located within the Gwalior Fort. It is dedicated to Lord Shiva, Lord Vishnu, and Lord Matrikas, it has been variously dated between the early 8th and early 9th century CE.
20. Scindia Museum
The west wing of the magnificent Jai Vilas Palace was converted into a museum by the late Rajmata Vijaya Raje Scindia in memory of her beloved husband and Maharaja of Gwalior Shrimant Jiwajirao Scindia. This beautiful Palace Museum was inaugurated by Dr. Sarvapalli Radhakishnan, the then-president of India.
21. Tomb of Ghaus Mohammed
The Tomb of Mohammad Ghaus was built in the 16th century AD during Akbar's rule as the resting place of Mohammad Ghaus, the Sufi saint, advisor to the Mughal Emperor Akbar, and music teacher to Tansen. Ghaus Mohammed was an Afghan Prince who later converted into a Sufi saint. The building walls are beautifully crafted of fine latticework, and the building is a fine example of Mughal architecture. It is located on the way to Gwalior fort near Hazira from Railway Station.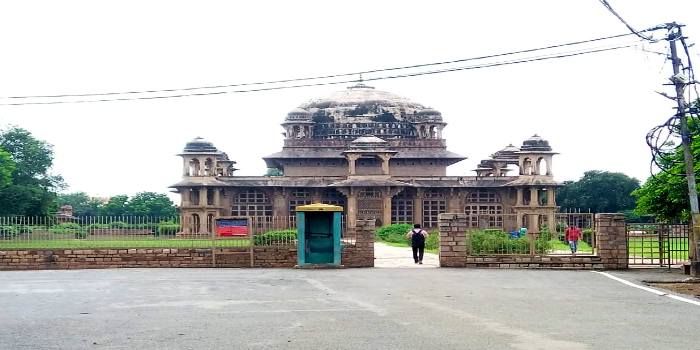 22. Captain Roop Singh Stadium
Located in the heart of the city, Captain Roop Singh Stadium is a cricket ground in Gwalior city. It was originally a hockey stadium named after great Indian hockey player Roop Singh. In February 2010 history was created at the Roop Singh Stadium when Sachin Tendulkar scored a double century in an ODI cricket match and became the first-ever International cricketer to do that.
23. Kuno National Park
Kuno National Park is part of the Khathiar-Gir dry deciduous forests, located in the Chambal region of Madhya Pradesh. It was also known as Kuno-Palpur and Palpur-Kuno Wildlife Sanctuary. It is located around 140 km from Gwalior city.
24. Pagara Dam
Located approximately 70 KMs from Gwalior city, Pagara Dam is a water reservoir near Morena in Madhya Pradesh. It is a perfect weekend gateway and a beautiful place to visit with family and friends from Gwalior city.
25. Sun Temple, Gwalior
Sun Temple Gwalior, also known as Birla Surya Mandir is a famous tourist attraction and one of the popular pilgrimage places in Gwalior. This temple is a replica of the famous Sun Temple in Konark. The temple was constructed in 1988 by G.D Birla, the famous industrialist of India. It is situated near Residency Road, Morar, Gwalior.
Also Read: How To Reach Sun Temple Gwalior
26. Bhadawana WaterFall
Situated around 25 KMs away from Gwalior city, Bhadawana Waterfall is a perfect weekend gateway from Gwalior to enjoy some time with family and friends. You can also visit an old Shiv temple located at the top of the waterfalls. It is one of the best romantic places for couples near Gwalior city.
27. Nalkeshwar Mahadev
Situated around 25 KMs from Gwalior near Tighra Dam, Nalkeshwar Mahadev is a beautiful and peaceful site. An amazing waterfall and a small pond are also lying here where you can enjoy the gushing flow of clean water. Nalkeshwar Mahadev is said to be Rishi Galav's abode, one of the most eminent sages in Gwalior's history.
28. Saas Bahu Mandir
Saas Bahu Temple, also known as Sahasrabahu Temple is a historical 11th-century twin temple near the famous Gwalior Fort. It is dedicated to Lord Vishnu in his Padmanabha form.
Must Read: How to Reach Sasbahu Temple Gwalior
29. Madhav National Park
Madhav National Park, the famous hunting ground of the Mughal emperors & Maratha royals, in the Shivpuri district of Gwalior division. The park was first noticed in 1956, as Shivpuri National Park but in 1958, it was renamed Madhav National Park after Madho Rao Scindia, the Maharaja of Gwalior. It is situated at a distance of 120 KMs from Gwalior city.
30. Etawah Safari Park
Etawah Safari Park, formerly known as Etawah Lion Safari is a drive-through safari park in Etawah, Uttar Pradesh. It is situated at a distance of 110 KMs from Gwalior, Madhya Pradesh.
31. National Chambal Sanctuary
National Chambal Sanctuary, also called the National Chambal Gharial Wildlife Sanctuary is a protected area for the protection of the Critically Endangered gharial, the red-crowned roof turtle, and the Endangered Ganges river dolphin. It is located around 80 KMs away from Gwalior on the Chambal River near the tripoint of Rajasthan, Madhya Pradesh, and Uttar Pradesh, and its headquarters is at Morena, Madhya Pradesh.
32. Bir Singh Palace, Datia
Bir Singh Palace, also known as Datia Palace is very beautiful, strong, and one of the most famous palaces built by Raja Bir Singh Deo. It is situated nearly 70 KMs from Gwalior on an isolated rock on the western side of Datia city. It represents Mughal architecture along with Rajput architecture.
Also Read: My Visit To Bir Singh Deo Palace – The Magnificent Fort of Datia
33. Pitambara Peeth, Datia
Shri Pitambara Peeth is one of the most famous temples in India. It is primarily a Shaktipeeth place of worship (devoted to the Mother Goddess). It is located in Datia town which is around 70 KMs away from Gwalior.
Also Read: How To Reach Pitambara Peeth Datia MP – Complete Travel Guide
34. Sonagiri
About 60 km from Gwalior, Sonagiri has scores of Jain temples dating from the 9th century onwards. There are a total of 103 temples with 77 on the hill and 26 in the village. This place is very popular among devotees and ascetic saints to practice self-discipline, austerity, and attain Moksha (salvation or liberation). This place also has a Jain museum.
Also Read: A Trip To Sonagiri Jain Temples, Datia Madhya Pradesh
35. Orchha Fort
Orchha Fort is a historical 16th-century fort built by the Bundela Rajput King Rudra Pratap Singh. It is located around 120 km from Gwalior in Orchha city, Madhya Pradesh. The fort complex is within an island formed by the confluence of the Betwa River and Jamni River in Orchha.
36. Shri Ram Raja Mandir, Orchha
The Ram Raja Temple, also known as Orchha Temple is a sacred Hindu pilgrimage in Orchha City. It is the only temple in India where Lord Rama is worshiped as a king and that too in a palace. A Guard of Honour is held every day, and police personnel have been designated as Guards at the temple, much in the manner of a king. Armed salutation is provided to Lord Ram every day.
37. Taj Usha Kiran Palace
Usha Kiran Palace is a royal heritage hotel in Gwalior city built by the Scindia dynasty of the Marathas. It is a 5-star palace hotel and its management is done by Taj hotels that's it is also known as Taj Usha Kiran Palace Hotel. It is one of the best luxury hotels in Gwalior city.
38. Maharaj Bada
Maharaj Bada, also known as Jayaaji Chowk is one of the most significant places in Gwalior city. Maharaj Bada is the central focus of Gwalior, with a large square, a former opera house, banks, tea, coffee, juice stands, and a municipal market building. There is a beautiful garden at the large chowk, having a statue of Maharaj Jiyaji Rao Scindia, in the center of it.
39. Ater Fort, Bhind
Situated around 100 KMs away from Gwalior city, Ater Fort is a great delight of Rajput and Mughal architecture. It was built by Bhadauria King Badan Singh, Maha Singh, and Bakhat Singh in the era of 1664-1668. It is located deep inside the ravines of the river Chambal.
40. Kakanmath Temple, Morena
Kakanmath Temple is a ruined 11th-century Shiva temple located in Morena, Madhya Pradesh. It is around 70 KMs away from Gwalior city. Only a part of the original temple complex now survives. Some of the sculptures from the site are now located at Gwalior.
Also Read: How To Reach Kakanmath Temple in Morena From Gwalior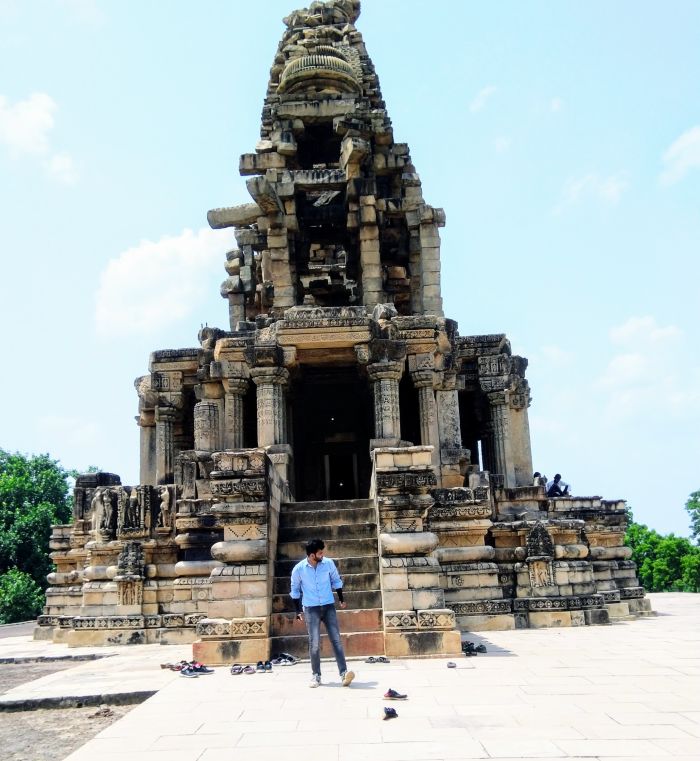 The above are the top 40 best amazing places to visit in or nearby Gwalior city, Madhya Pradesh, India.
Also Read: 30 Best Places To Visit in Madhya Pradesh