My Review: Cocina Highway Retreat Gwalior
Location

Taste

Service

Cleanliness

Restaurant Space
Cocina Highway Retreat is a Gwalior-based Indian food restaurant where you get complete space to enjoy every occasion. While writing a review I usually don't use praising words in the first line itself but Cocina restaurant surely has great space to make your moments memorable. But yes, only having a great space doesn't make Cocina the best cafe-restaurant in the city.
In this article, I am going to tell you about my experience of my recent visit to Cocina Highway Retreat restaurant-cafe in Gwalior. The Cocina is situated on the outskirts of Gwalior city on the Jhansi-Agra Highway near the ITM University Turari campus. There are plenty of roadside hotels and dhabas located near the Cocina restaurant but most of them are not suitable for families and couples.
Cocina Highway Retreat Complete Address: AH-43, Jhansi-Agra Highway, Bypass Road, near ITM Turari Campus, ITM Global School, Turari, Gwalior, Madhya Pradesh.
My Experience of Cocina Cafe-Restaurant Gwalior
A few days before, on the 7th of February, I planned to go on a romantic date with the beautiful girl I was dating. As 7 February is the starting day of the famous Valentine's week I wanted to make it special and romantic. I consider Cocina Highway Retreat my go-to place for the date.
We went to Cocina cafe in the daytime and as I expected the place was very less crowded. I first thing I love about Cocina is that they have a large and free parking space. Also, the location is quite good too. Although Cocina is located a little far from the city of Gwalior but if you have your own vehicle then distance won't bother you much.
Also if you are going on a date with your girlfriend/ boyfriend from Gwalior city and the weather looks decent then you can also enjoy a long/ short drive to the Cocina restaurant. The outskirts of Gwalior city near Cocina restaurant are mind-blowing. And the road is also in good condition.
The restaurant has a beautiful garden too, which makes the Cocina restaurant more amazing. A little pond with a fancy bridge is also situated in the garden. The garden is best for clicking pictures or making Instagram reels.
And besides the garden, there lies a small but great pool area. Cocina is the only cafe restaurant in Gwalior city with a pool where one can enjoy pool parties with friends and family.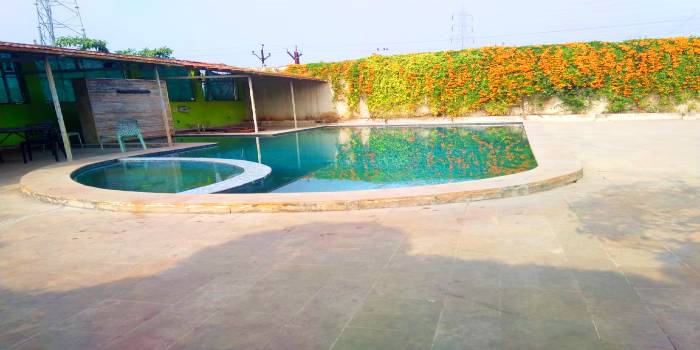 Cocina Highway Retreat offers multiple dining options as they have around 5 places to sit and eat. One is a modern cafe-restaurant AC hall with good sofa sitting and the rest of the places are in or near the garden.
I sit near the garden in the tin-set sitting as the weather was so pleasant that day. I asked my lady what she wanted to eat and as per her wish, I ordered a Crispy Honey Chilli Potato and a cup of Hot Coffee for myself.
The taste of the food is good but the serving quality could be better. Only one waiter is available to take and deliver orders from all. Also, the pricing is a bit high as compared to other cafe-restaurants in Gwalior city.
Apart from this, the cafe really needs to be restored in some of the departments like the furniture is in damn bad condition and the sitting area near the garden has a broken roof and a lot of dust can be seen there.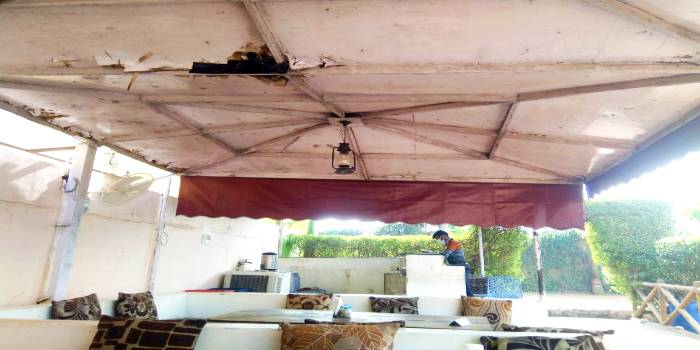 Things I like about Cocina Highway Retreat Gwalior
Following are the few things that I liked and appreciated about the Cocina Cafe-Restaurant Gwalior-
Couple-friendly cafe-restaurant
Great space for sitting and eating
Taste is good
Large space for parking
Varieties of eatables/ Large menu
Things I don't like about Cocina Cafe-Restaurant Gwalior
Following are the few things that I did not like and appreciate about the Cocina Highway Cafe-Restaurant Gwalior-
Average interior design
Pricing is high
Service could be better
Cafe needs restoration
This is my overall experience at Cocina Restaurant Gwalior. If you have any experience or queries related to Cocina Highway Retreat then please do share with us in the comment section below.
Also Read: 20 Best Cafe-Restaurants-Hotels in Gwalior