My Review : Dream Arena Cafe Gwalior
Location

Taste

Service

Cleanliness

Restaurant Space
Dream Arena is a Gwalior-based cafe startup that mostly focuses on Chinese and Continental-based cuisines and beverages. It is said to be one of the best cafe restaurants for young couples and college-going friends. Recently I visited Dream Arena Cafe to find out whether it is really a dream cafe or it is just a fake hype that the owner created within the city's youth.
Address – 6, Kherapati Colony, Phool Bagh, Lashkar, Near Sai Baba Mandir, Gwalior, Madhya Pradesh.
I visited Dream Arena restaurant with my girlfriend in the evening to spend some romantic time with her. Actually, it is she who insisted to go to Dream Arena cafe because she heard a lot about the cafe from her friends. So I go with her to know if really Dream Arena is one of the best cafes-restaurants for couples in Gwalior. Here is my complete experience of my visit to the Dream Arena restaurant.
My Experience at the Dream Arena Cafe Phoolbagh Gwalior
I visited Drean Arena cafe a few days after the New Year 2022, so I found the cafe decorated in the new year celebration theme. The first thing I noticed was the space inside the cafe, the cafe is situated in a small space in comparison to the other cafes in Gwalior but yes, they use that space so beautifully. As it is said that it's not about the instrument but it's about the artist and how he uses the instrument.
The cafe is divided into a couple of sections/ rooms with unique interiors for each. The decoration theme of the cafe is inspired by the famous Harry Potter wizarding world. As a big fan of Harry Potter movies and novels, I went into nostalgia for some time. I am sure kids will definitely love this place because of the HarryPotter related interiors, so one can also consider Dream Arena cafe as a great choice for kids' birthday celebrations places in Gwalior.
The sitting arrangement was quite unique and interesting. The moving table and chairs are one of the few things I experience first time in a cafe-restaurant in Gwalior. Dream arena is a couple-friendly place in Gwalior. I have seen many young love couples sitting in the cafe enjoying some romantic moments of life together. The cafe owner and staff are very friendly to the customers and are extremely helpful to the couples.
I saw the menu, there are many Indian, Italian, Chinese, and Continental-based cuisines and beverages listed on it. I ordered a Cheese corn pizza, a coke, and a hot coffee. The prices are very reasonable and the quality/ taste of food is good-average. The coffee is definitely not up to the name of the cafe, so if you are going there only for having coffee then I must warn you to not go instead there are many top-class tea-coffee places in Gwalior you should visit there.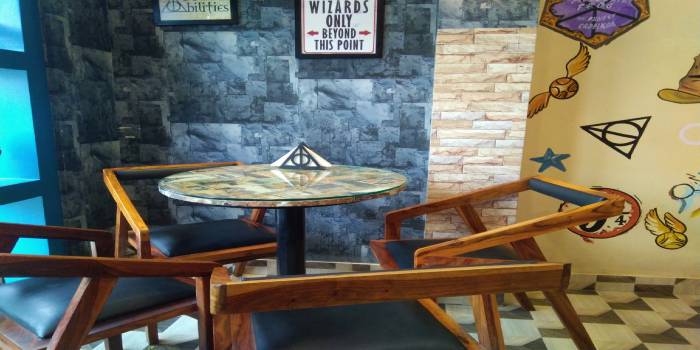 Things I like about Dream Arena Cafe Phoolbagh Gwalior
Following are the few things that I had liked and appreciated about the Dream Arena Cafe Phoolbagh-Lashkar, Gwalior-
Service/ Staff behavior
Great interiors/ Restaurant theme
Affordable pricing
Couple-friendly cafe-restaurant
Great location/ Easy to reach
Things I don't like about Dream Arena Restaurant Gwalior
Following are the few things that I had not liked and appreciated about the Dream Arena Cafe Phoolbagh-Lashkar, Gwalior-
Small car & bike parking area
Space is on the low side
The taste could be better
This is my overall experience at the Dream Arena Cafe, Near Sai Baba Mandir, Phoolbag, Lashkar, Gwalior. I recommend you all to visit the place with your friends, family, and loved ones. For any queries related to Dream Arena Cafe connect with me in the comment section below.
Also Read: 40 Best Places To Visit Near Gwalior