Jhansi Fort is a famous historical heritage landmark of North India. It is popularly known as the Fort of Rani Laxmibai- the queen of Jhansi. The fortress is situated on a hilltop called Bangira in the Jhansi district of the state of Uttar Pradesh, India.
Recently I visited Jhansi fort (Jhansi Ka Kila) from Gwalior city. It was such a beautiful trip because the weather was so wonderful that day. It was monsoon time in Jhansi which makes the city's outskirts so greenery and mesmerizing.
In this article, I will tell you about my trip experience to Jhansi fort, the best time to visit Jhansi fort, Jhansi fort timings & entry fee, and will provide you with a complete travel guide on how to reach Jhansi fort.
My Travel Experience To Jhansi Fort From Gwalior
I visited Jhansi fort during my trip to Orchha from Gwalior. After visiting Orchha, I head to Jhansi and visit this historical 16th-century fort. Jhansi fort is one of the main centers of the Indian freedom revolution of 1857. The Jhansi fort was built by the King of Orchha, Raja Bir Singh Ju Deo in the year 1613.
The travel distance between Jhansi Fort and Gwalior is around 105 kilometers. The Gwalior-Jhansi highway is the best & shortest route to the Jhansi fort from Gwalior city. The highway condition is also better now. I used Google maps & took the help of some locals to reach Jhansi fort because it was my first time in Jhansi.
The Jhansi fort is located in the middle of Jhansi city in a very populous area so be prepared for the traffic & jams on the way. There is a dedicated parking area at the main entrance gate for the tourists coming to visit the fort. The fort is spread over an area of 15 acres and there are a total of 10 gates giving access to the fort.
The Jhansi fort is a living testimony of ancient glamor and valor, and there is a museum that has a fine collection of sculptures that provide an excellent inside into the eventful history of Bundelkhand. The temples of Lord Shiva and Lord Ganesha are situated within the fort premises.
There are many places of interest within the fort premises area. The Karak Bijli Toup (Tank), Rani Jhansi Garden, Bhanderi Gate (Rani Laxmibai escaped from this gate in 1857 battle), the Mazar of Ghulam Gaus Khan, Moti Bai, and Khuda Baksh are some of the popular tourist spots within the fort.
My trip experience to the historical & heritage fort of Jhansi is so amazing. I got goosebumps while listening to the stories of the legendary queen of Jhansi- Rani Laxmibai. Jhansi fort is a magical place that can teleport one back to the days of India's first freedom revolution of 1857.
It is a very different & proud feeling to walk the pathways once walked by many brave Indian freedom fighters. The most popular spot in the Jhansi fort is the Jumping Spot (Kudan Sthal). It is the place from where Rani Lakshmibai jumped with her horse named Badal.
Indeed, Khoob Ladi Mardaani Thi… Wo Jhansi Wali Rani Thi…
How To Reach Jhansi Fort – Complete Travel Guide
So, now you are looking for ways to reach Jhansi fort. Don't worry, I got you. Here I am going to tell you about the best way to reach Jhansi fort. To visit Jhansi fort one must come to Jhansi first. And Jhansi is well-connected to the rest of India by rail & road means of transport. Following are the best ways to reach Jhansi by different means of transport-
Best Way To Reach Jhansi Fort By Train (Rail)
Jhansi is an important railhead on the Delhi-Chennai route. Most of the major cities like Mumbai, Delhi, Chennai, Agra, Bhopal, Gwalior, etc. are well connected to Jhansi by rail. Jhansi Fort is situated in the center of Jhansi city at a distance of around 3 kilometers from the Jhansi railway station. One can easily book a taxi or auto from Jhansi railway station at the basic travel fare of INR 20-30 per person and reach Jhansi fort in an approximate travel time of 15 minutes.
Best Way To Reach Jhansi Fort By Road (Bus & Car)
One can easily reach Jhansi by bus or car. Jhansi is well connected by road to many major cities of India. Cities like Gwalior, Agra, Jaipur, Khajuraho, Bhopal, Indore, Ujjain, Delhi, Kanpur, Lucknow, etc. are easily accessible from Jhansi by road. Once you reach Jhansi use Google maps to go to the Jhansi fort and don't hesitate to ask the locals about how to reach the fort.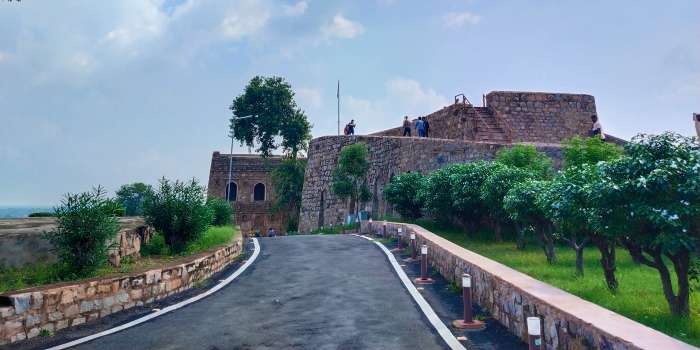 Best Way To Reach Jhansi Fort By Air (Flight)
Gwalior Airport is the nearest airport to Jhansi which is situated at a distance of around 105 kilometers from the Jhansi fort. The second nearest airport to Jhansi city is Khajuraho airport. The travel distance between Jhansi fort and Khajuraho airport is around 180 kilometers. The closest international airport to Jhansi is Delhi's Indira Gandhi International Airport which is located around 460 kilometers from Jhansi fort.
Best Time to Visit Jhansi Fort, Entry Fees, & Timings
The best time to visit Jhansi fort is in the winter season, between the months of November and March when the weather remains pleasant and calm. But, one can also visit Jhansi Fort during monsoons.
Jhansi Fort Timings: 07:00 AM to 06:00 PM (opens every day)
Entry Fee: INR 25/- per person (Indian), INR 300/- per person (Foreigners)
I hope this article has answered all your queries regarding the Jhansi Fort. But, if there is still something that I missed then let me know in the comment section. I am always here to help you.
Also Read: Top 10 Best Birthday Party Halls/ Venues/ Hotels In Jhansi