Tealogy Chai-Cafe Gwalior
Location

Taste

Service

Cleanliness

Restaurant Space
Tealogy is a popular name in Gwalior city if you are looking for an affordable but quality place to have tea or coffee with your friends. It is an Indian cafe chain that mainly focuses on tea-based beverages. There are around five to six Tealogy outlets in Gwalior city.
I have been to Tealogy cafes a couple of times in Gwalior city. It is one of the 10 best places for having tea or coffee in Gwalior city. Every day many young minds come here to do 'chai pe charcha'. Here I am sharing my review of the first cafe-restaurant of Tealogy in Gwalior.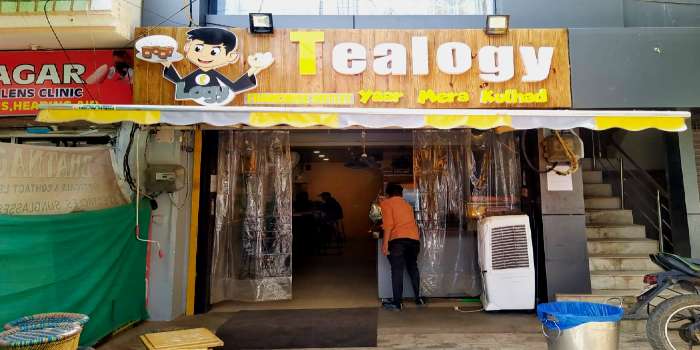 My Review of Tealogy Cafe Govindpuri, Gwalior, Madhya Pradesh
Address: Tealogy Cafe, Govindpuri Outlet, 6652+55M, Anupam Nagar, Govindpuri, Gwalior, Madhya Pradesh 474011.
I visited the Tealogy cafe at Govindpuri Chowpaty yesterday with one of my friends to have a conversation over tea. The cafe is usually very crowded but the time we visited there were only 3 to 4 people sitting inside the cafe. We ordered two cups of ginger tea and within no time the tea is in our hands. Full marks for the tremendously fast service.
The Tealogy Govindpuri outlet is situated near Jiwaji University so the cafe is quite popular among the students. The Tealogy cafe has a variety of teas to offer like Chocolate Tea, Rose Tea, Ginger Tea, Masala Tea, Paan Tea, Green Tea, Black Tea, etc. Other than the teas they also have a large menu of delicious beverages to eat while having tea.
They have a small bike parking area, but no area is provided for car parking. You have to park your car at your own risk. Unlike this, the DD Nagar outlet of Tealogy has big and multiple parking areas for cars and bikes. After the Govindpuri outlet, I visited the DD Nagar Tealogy outlet because it is situated near to my home.
I made a short video of my visit to the Tealogy Deen Dayal Nagar Cafe and uploaded it on TravelerSharma's youtube channel. Below is the video of my visit to Tealogy DD Nagar, do watch it and if you like it then share it with your friend's circle. And don't forget to subscribe to our Youtube channel.
Tealogy DD Nagar Outlet Address: Shop No. 67 & 68, Maharaja Complex, Deen Dayal Nagar, Gwalior, Madhya Pradesh 474005.
Tealogy has a popular outlet at Phoolbagh Chauraha Gwalior. It is Tealogy's one of the most loved cafes in Gwalior city. Tealogy's newly opened cafe is at Gole Ka Mandir near MITS College. This outlet is more spacious compared to the other cafes of Tealogy. Tealogy Gole Ka Mandir outlet is one of the best tea places near MITS College Gwalior.
Things I like about Tealogy Cafes
Following are the few things that I had liked and appreciated about the Tealogy's Cafes-Restaurants in Gwalior city-
Couple-friendly
Decent space for sitting and eating
Taste is good
Varieties of tea's & eatables
Things I don't like about Tealogy Gwalior
Following are the few things that I had not liked and appreciated about the Tealogy's Cafes-Restaurants in Gwalior-
No space for car parking at most of the outlets
Space is on the low side
Staff behavior
Cleanliness
This is my review of Tealogy cafes in Gwalior city. You can too share your experience of Tealogy in the comment section below. And if you not have visited Tealogy cafes yet then I recommend you all to visit the place with your friends, family, and loved ones. After all, Chai is love.
Also Read: Best Cafe-Restaurants In Gwalior MP