Mithaas Sweets, Bakery & Restaurant
Location

Taste

Cleanliness

Service

Restaurant Space
Mithaas Noida Sector-62 Review
My Review of Mithaas Sweets, Bakery, Restaurant, Cafe, & Party Hall in Noida Sector-62
Mithaas (Sweets, Restaurant, Bakery, and Party Hall) is a franchise outlet situated at B Block Road, Near Fortis Hospital, Noida Sector-62, Uttar Pradesh. It is said to be the only prominent restaurant in sector 62 Noida. Last evening, I visited Mithaas restaurant to have some fast food and to check out if it is really the best cafe-restaurant in Noida sector 62.
Mithaas is a bakery-restaurant chain with most restaurants are located in Noida and nearby areas. I visited its sector-62 outlet in Noida with my friend. This article is based on my personal experience of Mithaas Sweets and on the basis of my experience I am reviewing Mithaas's sector-62 outlet.
My Review of Mithaas Sweets, Bakery & Restaurant In Noida 62
I visited Mithaas in the evening and there was not so much of a rush at that time. As I enter the Mithaas their inside atmosphere gives an immense pleasure. It was so hot outside but inside Mithaas it was just a freezing chill atmosphere. We sat and check out the menu. My friend told me that he would like to have a Masala Dosa and go for Fried Rice as usual.
My friend told the food order to the waiter standing near us and he told us to go to the billing counter first and buy the food tokens. Then I go to the billing counter and told my order, the counter guy charged me the food prices with several charges and handed me the bill & food tokens.
Then I go to their kitchen area which is located just next to the billing counter and give the food tokens to the kitchen guy. He told me to sit and wait till the food will prepare. After around 15 minutes a waiter came to us with our order. So this is like half self-service and half restaurant service.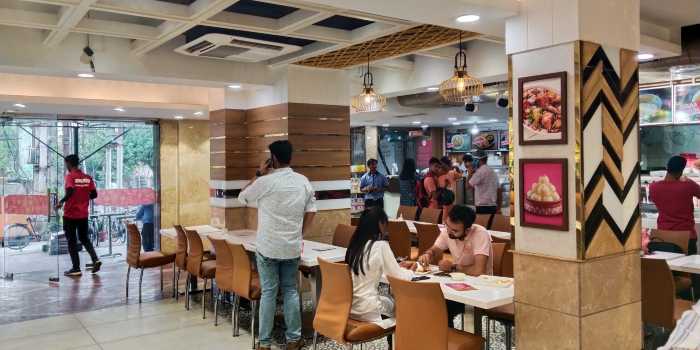 If I talk about hygiene & cleanliness then the Mithaas staff got full marks. All the Mithaas employees covered their heads and wear hand gloves all the time. Their service is also good and very polite behavior. However, I notice that some guests are paying for their food after they finish eating. I got no problem with this but why did they make me pay first for the food?
Now let's talk about the taste of the food. My friend was fine with the taste of the food but I am not. There was a little bit of sweetness in each one of their dishes even the spicy dishes. Maybe they took their name seriously. Being a spicy food lover I didn't enjoy my meal as much as I was expecting.
Mithaas is very famous as a bakery shop in Noida sector-62. A have seen a variety of bakery items showcased on the mirror counter. Mithaas has a very large menu for only bakery products. Mithaas Sector-62 outlet also provides a party hall to celebrate birthday parties, kitty parties, anniversary parties, and some other small functions or gatherings.
Things I like about Mithaas Sweets, Bakery, & Restaurant Noida Sector-62
Location
Nice space for sitting & eating
Varieties of eatables/ Large menu
Family, kids, and couple-friendly
Service is good
Hygienic & Clean
Things I don't like about Mithaas Sweets, Bakery, & Restaurant Noida Sector-62
No dedicated car parking area
The taste could be better
High pricing
How To Reach Mithaas Sweets, Bakery, & Restaurant In Noida Sector 62
It is very easy to reach Mithaas Sweets and Restaurant in Sector-62 Noida because it is well connected to the Delhi NCR areas. The Mithaas restaurant is located in the B-Block area on the main road near the Fortis Hospital in Noida Sector 62. It is situated in very close proximity to the Noida Sector-62 metro station which comes on the blue line of the Delhi metro.
This is my overall experience of my visit to Mithaas Sweets, Bakery, Restaurant, and Party Hall. If you have anything to share related to this article then feel free to use the comment section below.
Also Read: Best Budget Hotel Rooms To Stay in Noida Sector 62