Decathlon Cyberhub Gurgaon
Store Space

Location

Collection & Quality

Staff Behavior

Service
Recently I visited the Decathlon sports shopping showroom in Cybercity Gurgaon's famous CyberHub. It is famously known as the Decathlon Cyberhub store. In this article, I will share my experience of my visit to the Decathlon store in CyberHub Gurgaon.
Decathlon is one of the world's largest sporting goods manufacturers and retailers. It is present in more than 60 countries. In India, Decathlon has more than 70 stores and the company has the ambition to open more new stores in order to be present in every part of India.
This article is my personal experience of my recent visit to the Decathlon store in CyberHub Gurgaon with my friend.
Also Read: Rajiv Chowk Metro Station New Delhi – Fun Facts
My Review of Decathlon CyberHub Gurgaon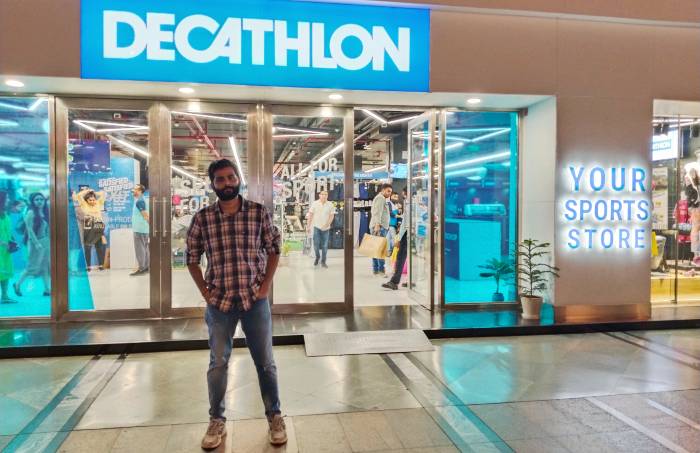 I visited the Decathlon store at CyberHub Gurgaon with my friend. Actually, it was he who took me to the store. I didn't know anything about the Decathlon and he is a fan of the company.
So Decathlon CyberHub is basically a sporting goods store. It is a big store with almost all sports-related items. It is a one-stop shop for buying all sports goods.
Decathlon CyberHub is the first digital store in India with a "Click & Collect – Scan & Go" checkout option. One can make payment through the Decathlon app's self-checkout feature to skip the queue and save time.
The aim of the company is to increase the accessibility of every sport and touch every Indian life. Here you will find almost all accessories of more than 70 sports under one roof.
Things I liked about Decathlon CyberHub Gurgaon
Huge store
Great collection of sporting goods
Product Quality
Location
Things I didn't like about Decathlon CyberHub Gurgaon
Expensive
Staff behavior
Management service
This was my experience with Decathlon CyberHub. If you too have something to share about the Decathlon CyberHub Gurgaon then feel free to use the comment section below.
Also Read: 10 Most Romantic Places For Couples in Noida